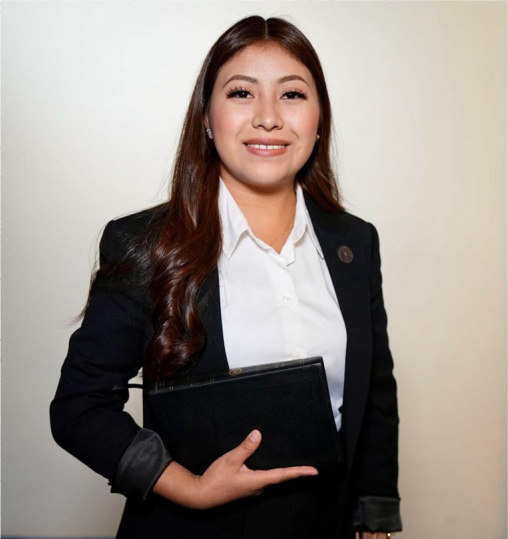 Micaela Chan
THE WORD 229
"From Unexpected Journey to Dedicated Ministry:
A Testimony of Faith & Purpose"
My name is Micaela Chan. I am a 1st Year Bible Student of the Maranatha Bible School International (North America Extension), and I am originally from Guatemala.
My travel to the United States was unexpected. My mom, who was in the United States at that time, would always talk and call me and my sister. She left us when we were young, but she always called my grandma to contact us. When I turned 7 years old she always encouraged me and asked me to come to the United States. I was hesitant to come because I grew up with my grandma. She found different ways to persuade us to come, like sending gifts. My mom said that someone will bring us to the States; she said that he was our "uncle." I wanted to meet him, then I will go, I thought. My mom contacted my grandma to prepare my sister and I to come to the United States.
I was 8 years old. After going to my grandma's, we went to my "uncle's house." He was really a man that helps people travel. We started traveling to different places. At the time, my sister and I had no idea what those places were. We stayed in a part of Mexico for 2-3 days. There were a lot of people making their way to the United States. While we stayed there, we saw things we were not supposed to see. After that we traveled through the desert, walking day and night; we covered ourselves with bags. The next day we woke up in really hot weather. Lots of people would often get lost and die. We saw heads of dead people. We ran out of food. As we ran out of food, we shared what we were given from other people. There were times that we ran out of water; we would make ways to get water. We found a cabin house, full of resting people. We rested and ate there. It took probably about a month, a month and a half to make our way to the United States. When we finished walking through the desert, we stayed on the back of a big truck; they covered us, as we traveled.
When I got here in the US, I heard my mom calling the man who was helping us to know how we were doing. We arrived at a house; we ate; we showered. He called my mom and told my mom that we will be arriving soon. My sister and I were so shy and scared. We've seen my mom in the picture, but it's not the same. When we saw her, we couldn't believe it. She talked to us and introduced herself to us. I was crying. We thought the man who helped us was our uncle. My mom opened up and said that he was not our uncle; he's a man who worked to bring us here. It was hard for us to adapt to a new place, to new surroundings.
I got to know the Church through evangelism. When I became independent, one of my vows was to get closer to God. That time, I was going to a salon to do my hair. I was waiting at the bus stop where the brethren would do evangelism every Saturday. One of them approached me-Bro Raphael Gregorio. He gave me a tract; he mentioned that whenever I get a chance, I should join them in their firebrand service or worship. He asked me for my phone number. I wasn't hesitant in giving my phone number because I was looking for a church. Since I started working, it was hard for me to attend. I remember there were 2 or 3 times where Bro Raphael texted me reminding me of the service days. I responded, but my responses were: I had work or I got out late from work. The 3rd time he invited me, that day I didn't work. Since he reminded me, he told me he was gonna pick me up if I could make it. I confirmed that I was going to go. I went; they picked me up. As I entered the church, I imagined the church to be big, but the church was very small and humble. I never expected that I was going to be in a church with a different nationality than me. That didn't really bother me. The brethren were very welcoming and caring. Bro Jan Dago was the pastor there at the time. After service, I remember Bro Jan Dago and the firebrands encouraged me to attend more, and they asked me how I liked the service. I really liked it. It was during a Bible Study that I started going. I started coming and coming. I kept on going every service. In November 2019, Bro Raphael went to the Philippines. At a family devotion, on November 3, 2019, I went to Evangelism together with the Firebrands. After we came back, the elders, Elder Flor and Elder Marlyn-they were testifying to me that I should get baptized. I was moved and encouraged; I got baptized.
On Antioch Vision Night in the US District Conference of 2020, during the unveiling of the Great Hispanosphere Outreach, Bishop Jonathan and Sis Virginia were preaching and translating. As he was preaching, I could see that the Holy Spirit really softened my heart. I started crying. I started remembering that ever since, even before coming to the United States, my promise to God is that if ever I go back to Guatemala, I want to come back serving God. It seemed like God reminded me of my love for Him and my desire to serve Him. That pushed me even more, to the point where I ended up dedicating myself. I didn't see it coming; I didn't see it happening. It was the Holy Spirit speaking through Bishop Jonathan that night. "Especially if you are young, if you are a youth, don't waste your time doing the things that the world finds satisfaction in; dedicate your life to the ministry. It doesn't matter how old you are." That night I dedicated myself to the AMP program. I thank God for the leadership and guidance of Ptr. Even and Ptr. Madeline Macatol.
I remember in one of the missionary services, Bishop would always mention, "The harvest is plenty, but the workers are few." When I heard that, I agreed to it. I asked the Lord, "Lord if this is what you want me to do, use me all the more. If this is your plan for me, help me to find it." After two missionary services, I decided to dedicate myself to the full time ministry because I really saw the need to reach out to my own people. At that time, Reaching Regions Beyond was established. That's where God proved to me that I am needed that He needs me. I was assured that that's what He wanted me to do. Of all the things that I went through, when I really wanted to serve God during my early high school years, before I met the 4th Watch, my mom would stop me and my sister from going to church. I questioned God, "Why is my life like this? If you are God, why do you let this happen? Why is this so difficult to serve you?" Those were tests from God, testing me and my faith, how I believed in Him. In comparison to now, I can see that it was all part of God's plan and purpose that I will find this church.
Now being a 1st Year Bible Student, it was very challenging because when I first dedicated myself to the ministry, my family didn't know about it. Bro. Raphael and the Pastors knew that I dedicated myself to the full time ministry. I kept it to myself for about a year. Now, my mom supports my decision, but even until now, she still doubts, thinking that I will return home. For me, I know that I've given my heart to God already. There's no going back.
I thank the Lord for blessing the PMCC (4th Watch Church) with the Apostle Arsenio Tan Ferriol, together with Evangelist Leticia Ferriol, Bishop Jonathan S. Ferriol, and Presbyter Marites Ferriol. Through the Apostle's ministry and through the church he has established, throughout the years, the church has borne fruit. I can say and testify that I am one of those fruits, seeing the work of God expand firsthand, through Reaching Regions Beyond.